News related to:
20 October 2017
Mt. Elbrus Climb 2018
Here comes our new Mt. Elbrus climbing schedule for April - October, 2018!
Get a group discount of 5% for booking of 2 persons or more until March, 1st!
For more information about program details, availability and other dates please contact me by email go.elbrus@gmail.com, by mobile phone +7 928 915 67 53 or Whatsapp +7 988 936 40 66. I will be happy to write or call you back, just send me a short notice!

Individual expeditions, projects & events. If you want to climb individually and design your own program, if you are planning a private project (for example, a foto shooting or filming session), a special event or expedition, I will be happy to help you with management, support, organization and guiding.

We also offer professional logistics for experienced climbers and mountain guides at a fair price.
Climbers, who are looking for special attention during their climb and wish to hire a private guide, please feel free to contact me for private guide services.
Elbrus Climb
Elbrus with its two summits (West summit - 5642 m, East summit - 5621 m) is a dormant vocanoe, located to the north of the Main Caucasian Ridge. The West summit of Elbrus is Europe's highest peak and therefore one of the «7 Summits». Elbrus is located on the territories of the Karachay-Cherkessian and Kabardino-Balkarian republics of the Russian Federation.

Climbing Elbrus via the classical route from the south in summer in good weather is technically not difficult, though requires good physical shape and acclimatization.

But due to certain circumstances, the climb can be difficult and dangerous. As on every alone standing mountain the weather can change quickly. Fog, snowfall and thunderstorms are frequently observed even in summer. Due to the features of a stratovolcanoe, orientation in bad weather can be very difficult. The glaciers on Elbrus are huge, covering about 145 square km, the thickness of the ice can reach 200 m in certain areas and there are lots of big crevasses.

Even though Elbrus is «only» a 5000er, it is very important for everybody to acclimatize well and in the right way, even if you are an experienced mountain climber and in great physical shape. Otherwise, as on any high mountain, altitude sickness can be one of the reasons why you would not reach the summit and which can endanger your life.

Because of weather and snow conditions on the mountain we start the climbing season with our ski touring programs only in mid April. Earlier in the year strong winds and very cold temperatures cause open ice above 4000 m, and the climb then is technically very difficult and dangerous. Usually one can find good conditions for ski touring untill mid summer, and the normal climbing season ends early October. Please pay attention to the fact that even in the middle of summer the temperature on the mountain can be very cold, and you will necessarily need to bring warm clothes (down jacket, warm mountaineering mits, warm mountaineering boots). Some of our guests confirmed that for them climbing Elbrus was colder than Everest!

Most of the climbers ascent the mountain on the classical south route from Azau in the Baksan valley. On this route you find the most developped infrastructure for climbing: one can ascend by lifts to 3700 m, further with snow cats to 4500 m, there are lots of little camps and huts to stay overnight. The minus of this route is that there are lots of climbers in the main season.

Another route on the south side brings you, far from the lifts, from Terskol in the Baksan valley along the beautiful Terskol gorge to Garabashi glacier and to the summit.

Except these routes we offer also expedition-like ascents via the beautifull and less frequently visited north and east sides of Elbrus.

Further we show you our basic programs of climbing Elbrus, which can be changed and designed to your needs by adding other mountaineering, trekking or ski touring days before or after the climb.
Elbrus Normal Route from the South (8 days)
Elbrus Fast Climb from the South (6 days)
Elbrus via Peak Terskol from the South (8 days)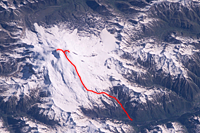 Another ascent from the south side, without lifts for those who want to climb the mountain from the bottom. Ascent from Terskol village via Peak Terskol over Garabashi glacier to the camp.
Elbrus Traverse from South to North (10 days)
Ascent on the normal route from the South with comfortable infrastructure for good acclimatization, descent on the wilder and more lonely North side. Gives you a good impression of the wideness of Elbrus' glaciers. Easier than the Elbrus Traverse from North to South, no expedition experience necessary.
Elbrus from the North (10 days)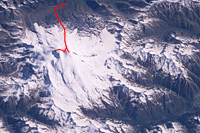 The climb from or to the North side is physically harder (long climb on summit day), and you have to be able to stay overnight in tents and basic huts. We climb either East or West summit, or both, doing the so-called "cross" over Elbrus. For fit and experienced climbers, especially recommended at high season.
Elbrus Traverse from North to South (10 days)
Ascent on the wilder and more lonely North side, with expedition style camping and long day hikes. Harder than ascent from the South, but the stunning view on the Main Caucasian Ridge on the descent to the South side is worth all the efforts.
Elbrus Ski & Snowboard Climb (8 days)
Normally one would climb Elbrus on skis from April to June on the classical route from the south, but if you are ready for the thrill we can also organize ski climbs from/ to the north or east. Depending on snow conditions you can ski from the summit almost all summer season.
7 August 2009