Elbrus Ski & Snowboard Climb from South Side (8 days)
If you want to ski or snowboard down Europe's highest mountain you have to join us from mid of april to late june - and you may get some wonderful powder!
If you have more than 8 days, then there are many other interesting possibilities for touring with skis, snowboard or on snow-shoes, either as extra acclimatization before climbing Elbrus, or as extension after the climb.
Best time: mid April - end of June, depending on snow conditions.
Dates 2020:

April
18.-25.04.2020
25.04.-2.05.2020

May
2.-9.05.2020
9.-16.05.2020
16.-23.05.2020
23.-30.05.2020

June
30.05.-6.06.2020
6.-13.06.2020
13.-20.06.2020
20.-27.06.2020

Price:
from EUR 950
See our equipment list for this program.
| | | |
| --- | --- | --- |
| Day | | Program breakdown |
| 1 | Travel to Mineralnye Vody and Azau | After your arrival in Mineralnye Vody, we will meet you at the airport and transfer you to Azau. The ride takes approximately 3-4 hours. You will stay overnight in our hotel in the valley at 2400 m. |
| 2 | Acclimatization tour to 3600 m | Today we will make our first acclimatization ski tour on the slopes of Mt. Elbrus. Depending on snow conditions, we may start from the hotel (2400 m), or from one of the gondola stations (3000 m or 3500 m), which we reach by lifts. We will tour up on skis or snow-shoes with our snowboards on our backpack to an altitude of approximately 3600 m. In good weather, the summit looks unbelievably close, but from where we stop it is still more than 2000 vertical meters up to the top! For the ride or hike down we have several options, either the piste, which leads us right back to our hotel, or the wide and gentle snow fields of Garabashi glacier, leading us down via a popular freeride route. You will stay overnight in the hotel (2400 m) again. |
| 3 | Acclimatization tour to 4200 m | After breakfast, we leave our hotel for a few days and take a lift ride up to 3600 m. Here is our small, comfortable mountaineering camp. After having had some lunch, we will skin up to Prijut-11 hut (Diesel hut) at 4100 m and come back skiing. Overnight in the camp. |
| 4 | Acclimatization to Pastukhov Rocks | After breakfast, we will skin up to Pastukhov Rocks (4600 m). Even in summer we will probably find some nice powder for our ride back to the camp. Overnight at the camp at 3700 m again. |
| 5 | Rest day | Today we will provide you some technical training: use of crampons, ice-axe, self-arrest, rope techniques. In the afternoon you will have time to relax, which will give you power for an extra push on summit day, or do a freeride descent on the wide glaciers near our camp. We will have an early dinner, as we will have to get up early for the summit. Overnight at the camp at 3700 m. |
| 6 | Summit day | On a normal summit day, we will have breakfast at 1 a.m. and leave at 2 a.m. It is possible to take the snowcat up to Pastukhov Rocks which makes the ascent 3-4 hours shorter (1000 vertical meters). This is an extra service, which can be booked in advance or on spot. Time from the camp to the West summit of Mt. Elbrus (5642 m) is normally 10-12 hours (1959 vertical meters from the camp, 1150 vertical meters from Pastukhov Rocks). Time to the West summit of Mt. Elbrus (5642 m) is normally 8-10 hours. The descent to the camp on skis or snowboard takes another 1-2 hours. Overnight at the camp at 3700 m. |
| 7 | Reserve day and descent to the valley | In the morning, after breakfast, we descend to Terskol. If today we use as a reserve day for getting to the summit (in case, if the weather was bad on day 6) we will have to go down to Terskol in the late afternoon. In the evening we will have a small celebration party during which you will get your climbing certificate. Overnight in our hotel in the valley (2400 m). |
| 8 | Departure to Mineralnye Vody | In the morning, our driver will bring you to the airport in Mineralnye Vody for your flight back home. |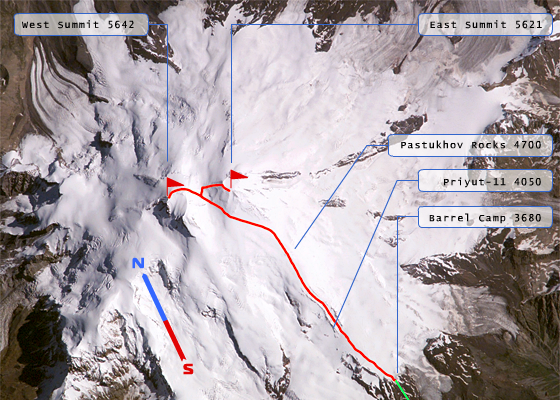 11 August 2009