Elbrus Climb via Peak Terskol from South Side (9 days)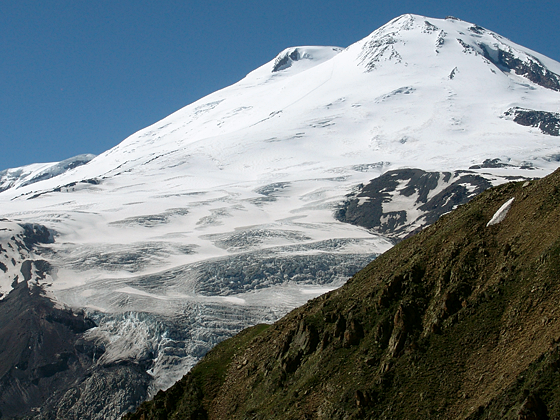 This climb is designed as a trek, we start hiking from the bottom and do not use lifts. Some of the nights we will stay in tents. Our ascent follows the route of the acclimatization hike to Peak Terskol of the classical climb. From here we continue below Garabashi glacier to our mountaineering camp. We steadily rise our sleeping altitude, which allows us to acclimatize better. Weather and snow conditions allowing, we can put a tent at 4300 m and make our summit push from here. Even though parts of your equipment can be transported to the mountaineering camp separately by lifts, you will need to carry more than on the classical climb. Descend back to the valley after the summit with lifts.
Best time: June - October.
Dates 2020:

June
29.05.-6.06.2020
5.-13.06.2020
12.-20.06.2020
19.-27.06.2020
26.06.-4.07.2020

July
3.-11.07.2020
10.-18.07.2020
17.-25.07.2020
24.07.-1.08.2020

August
31.07.-8.08.2020
7.-15.08.2020
14.-22.08.2020
21.-29.08.2020

September
28.08.-5.09.2020
4.09.-12.09.2020
11.-19.09.2020
18.-26.09.2020
25.09.-3.10.2020

October
2.-10.10.2020
9.-17.10.2020
17.-24.10.2020
24.-31.10.2020

Price:
from EUR 1100
See our equipment list for this program.
| | | |
| --- | --- | --- |
| Day | | Program breakdown |
| 1 | Travel to Terskol | After your arrival in Mineralnye Vody we will meet you at the airport and transfer you via minibus to Terskol. The ride takes about 3-4 hours. You will stay overnight in our hotel in the valley (2100 m). |
| 2 | Start Elbrus climb via Peak Terskol | Today we will take a local transfer to Terskol village at 2100 m. From here we will hike up via a beautiful waterfall to the meadows beyond tne observatory at Peak Terskol. Here, at an altitude of approximately 2900 m, we will set our tents and have lunch. In the afternoon we will go on a small acclimatization to the morraine above Garabashi glacier. Overnight in tents. |
| 3 | Hike to Garabashi mountaineering camp | Today we hike below the Garabashi glacier and climb up over rocky morraines to our mountaineering camp at Garabashi station 3700 m (750 vertical meters, 3 hours). Here we settle in our cozy mountain hut, where we find the rest of our climbing equipment which has been sent up by lifts separately. After lunch we will go on a small hike to see the surroundings. Overnight at the camp. |
| 4 | Acclimatization hike to Prijut Hut | After breakfast we will hike up to Prijut Hut (4050 m, 350 vertical meters, 2 h). Overnight at the camp at 3700 m. |
| 5 | Acclimatization hike to Pastukhov Rocks | After breakfast, we will hike up to the Pastukhov Rocks (4600 m, 900 vertical meters, 4 hours). Overnight at the camp at 3700 m. |
| 6 | Rest day | Today we will provide you some technical training: use of crampons, ice-axe, self-arrest, rope techniques. In the afternoon you will have time to relax, which will give you power for an extra push on summit day. We will have an early dinner, as we will have to get up early for the summit. Overnight at the camp 3700 m. Weather conditions allowing, we can also move higher up to stay in tents at 4300 m. In this case, we will have lunch at the camp and then go up with all climbing gear we will need for the summit. Tents, sleeping pads, food and water will be transported to our new camping place by snowmobile. Overnight in tents at 4300 m. |
| 7 | Summit day | On a normal summit day, we will have breakfast at around midnight and leave at 1 - 2 a.m. It is possible to take the snowcat up to Pastukhov Rocks which makes the ascent 3 hours shorter (this is an extra service, which can be booked in advance or on spot). Time to the West summit of Elbrus (5642 m) is normally 8 to 10 hours , the descent to the camp takes another 4 – 5 hours, bringing us back at 3 to 6 p.m. Overnight at the camp at 3700 m. |
| 8 | Reserve day and descent to the valley | In the morning, after breakfast, we descend to Terskol. If today we use as a reserve day for getting to the summit (in case, if the weather was bad on day 6) we will have to go down to Terskol in the late afternoon. In the evening we will have a small celebration party during which you will get your climbing certificate. Overnight in our hotel in the valley (2400 m). |
| 9 | Travel back home | In the morning our driver will bring you to the airport in Mineralnye Vody for your flight back home. |
11 August 2009